Ad blocker interference detected!
Wikia is a free-to-use site that makes money from advertising. We have a modified experience for viewers using ad blockers

Wikia is not accessible if you've made further modifications. Remove the custom ad blocker rule(s) and the page will load as expected.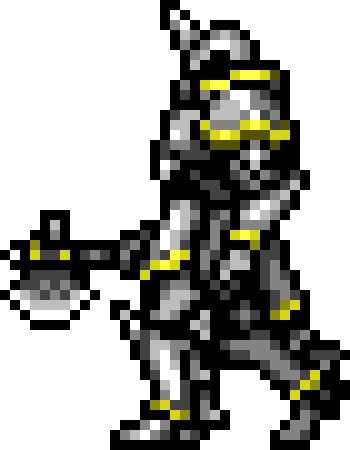 Armors in Castlevania: Circle of the Moon, are moving suits of armor that command the elements.
The following types of armors can be found:
Axe Armor
Edit
The weakest of all armors seen in Circle of the Moon, Axe Armors are similar to the Axe Knights found in the original Castlevania. They throw axes in a horizontal pattern, which return to their hands. While they don't command an element and their attacks only deal physical damage, they are resistant to Darkness.
| Name | JPN | HP | EXP |
| --- | --- | --- | --- |
| Axe Armor | アックスアーマー | 55 | 31 |
Dark Armor
Edit
Dark Armors can send vortexes imbued with Darkness energy from their blades. While they're less powerful than Devil Armors, they're still one of the most dangerous enemies in the game due to their unpredictable patterns of attack. They will briefly aim their swords in the direction they will attack (high, middle or low) and shoot either two or three dark energy vortexes in rapid succession. Most of the times their attacks will be aimed toward Nathan's position, but that's not always the case and sometimes they will shoot in any random direction.
| Name | JPN | HP | EXP |
| --- | --- | --- | --- |
| Dark Armor | ダークアーマー | 400 | 3,300 |
Devil Armor
Edit
The Devil Armor is a deadlier version of the Dark Armor; they have exactly the same attack patterns but are much more powerful. They can only be found toward the end of the Battle Arena, in the 15th room. The primary reason which makes Devil Armors so dangerous is the fact that they are accompanied by twelve Evil Pillars, which can cause Stone status, allowing a Devil Armor to kill Nathan with just one or two hits of their Darkness energy vortexes. There are only three in the entire game.
| Name | JPN | HP | EXP |
| --- | --- | --- | --- |
| Devil Armor | デビルアーマー | 500 | 6,600 |
Earth Armor
Edit
Earth Armors are some of the weakest armor types. Like their other armor counterparts, they are slow moving and attack periodically. When an Earth Armor swings its sword, it releases an earthquake which travels along the ground (simply jump to avoid it).
| Name | JPN | HP | EXP |
| --- | --- | --- | --- |
| Earth Armor | アースアーマー | 130 | 249 |
Flame Armor
Edit
The Flame Armor attacks with a Fire sword with the same pattern as the other armors. It takes three steps forward, then pulls its sword back and performs an overhead swing while briefly lunging forward. Its attack has short range, since it does not emit a projectile with the swing; however, its damage is significant for its level. It's often found in the Chapel Tower.
| Name | JPN | HP | EXP |
| --- | --- | --- | --- |
| Flame Armor | フレイムアーマー | 160 | 280 |
Forest Armor
Edit
The Forest Armor is able to grow vines from its arms in a whip-like fashion. It has medium range and the vines will spread out from the tip.
| Name | JPN | HP | EXP |
| --- | --- | --- | --- |
| Forest Armor | フォレストアーマー | 370 | 1,280 |
Holy Armor
Edit
Holy Armors are among the strongest types of armors. They move like typical armors, moving forward four paces and then attacking by pointing their sword in the direction of their enemies and firing a beam of Light energy, either straight forward or diagonal (can fire it either diagonally up or down). They are less powerful than the White Armors.
| Name | JPN | HP | EXP |
| --- | --- | --- | --- |
| Holy Armor | ホーリーアーマー | 350 | 1,700 |
Ice Armor
Edit
Ice Armors are amongst the most dangerous types of elemental armors, as not only are they notorious for being able to kill Nathan with just two or three hits by themselves, but most of the grounds in the rooms they appear in are covered by a poisonous water that will only worsen matters. Ice Armors, like all other armors, are slow moving and attack periodically. When they attack, they materialize an ice spear in their hand and throw it straight forward. They throw two spears in succession: one upper, which Nathan can duck to avoid, and one lower, which Nathan has to jump over.
When an Ice Armor's spear hits Nathan, it will inflict Freeze status, immobilizing him. Like the Stone status, it greatly increases the damage Nathan receives, with the added hazard of having to wait until the effect ends, unlike with stone, where the player can break free from it. If an Ice Armor hits Nathan with the first spear, the second spear will likely halve Nathan's HP or just kill him.
Perhaps the only saving grace that the Ice Armors have for the player is their item drop; upon defeat, they have a chance to drop the Neptune Card. This will prove most helpful to Nathan once he collects it, as by that point in the game, it is likely that he already has the Serpent Card, thus rendering a good number of the enemies present in the area relatively harmless.
| Name | JPN | HP | EXP |
| --- | --- | --- | --- |
| Ice Armor | アイスアーマー | 240 | 500 |
Poison Armor
Edit
The sword-wielding Poison Armor is found in several places. Its attack pattern is the same as the other armors. They pace forward four steps, then raise their swords and expel a cloud of violet gas which damages and Poisons Nathan on contact. The gas remains for a few seconds, moving slowly in Nathan's direction. The cloud of gas, however, is not dangerous but until it reaches its initial projected distance, which means Nathan can stand in front of a Poison Armor while it attacks, and remain unharmed even if the cloud of gas travels through his body and materializes behind him (one must be wary of the sword, though).
| Name | JPN | HP | EXP |
| --- | --- | --- | --- |
| Poison Armor | ポイズンアーマー | 260/380 | 822/3,600 |
Note: Second stat listed is when encountered in the Battle Arena.
Stone Armor
Edit
The Stone Armor throws large boulders in sets of three at its enemies; these can easily be destroyed by spinning the whip.
| Name | JPN | HP | EXP |
| --- | --- | --- | --- |
| Stone Armor | ストーンアーマー | 90/260 | 222/3,000 |
Note: Second stat listed is when encountered in the Battle Arena.
Thunder Armor
Edit
The Thunder Armor emits Electricity spheres from its sword which will track Nathan's position for a few seconds, after which they will travel in a straight line out of the screen.
| Name | JPN | HP | EXP |
| --- | --- | --- | --- |
| Thunder Armor | サンダーアーマー | 204 | 800 |
White Armor
Edit
The White Armor is an improved version of the Holy Armor and they only appear in the Battle Arena. They walk forward four paces, raise their swords and fire a large laser-like beam straight forward which deals Light damage. However, since they only fire the holy beam straight forward, their attacks can be easily avoided by ducking and attacking. They drop the Unicorn Card.
| Name | JPN | HP | EXP |
| --- | --- | --- | --- |
| White Armor | ホワイトアーマー | 640 | 7,000 |
Wind Armor
Edit
Wind Armor is an elemental armor which attacks by using Wind waves. The wind wave describes the range of the attack.
| Name | JPN | HP | EXP |
| --- | --- | --- | --- |
| Wind Armor | ウインドアーマー | 320 | 1,800 |