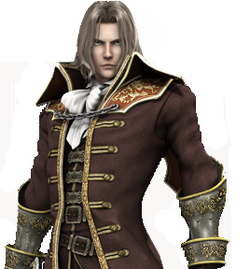 Alucard appears in Pachislot Akumajō Dracula III, which follows the same storyline in the game he first appeared in, Castlevania III: Dracula's Curse. His first encounter with Trevor involves a fight scene that plays identically to his battle with Simon Belmont in Castlevania Judgment. Alucard appears in several scenes, including a battle with a skeleton, finding a sword to wield, and using a telescope. He joins Trevor and Sypha during Dracula battles.
Ad blocker interference detected!
Wikia is a free-to-use site that makes money from advertising. We have a modified experience for viewers using ad blockers

Wikia is not accessible if you've made further modifications. Remove the custom ad blocker rule(s) and the page will load as expected.