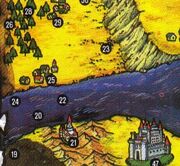 Aldra (Japanese: アルドラの町 Arudora no machi, -town), also known as Alba, is a town located on the north bank of the western stretch of the Dead River in Simon's Quest. It is mostly devoid of men and populated with many women. It is where you can find an adventurous Crystal Trader, who will give you a Red Crystal, which you will need to get beyond Deborah's Cliff. It also has church where you can replenish your health.
Aldra is located on the west bank of the Dead River across from the Belasco Marsh. On the other side of the town lies the Sadam Woods.

Enemy Data
Edit
Enemy Data: Aldra at Night
Image

Name

- Game
Description
Statistics
Items
Location
'
HP: 2/4/8/16

Drop: Half Heart

Jova, Veros, Aljiba, Aldra, Oldon, Fetra

External Links
Edit
Ad blocker interference detected!
Wikia is a free-to-use site that makes money from advertising. We have a modified experience for viewers using ad blockers

Wikia is not accessible if you've made further modifications. Remove the custom ad blocker rule(s) and the page will load as expected.