Alastor
Talk

0
4,026pages on
this wiki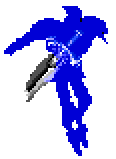 Alastor
(also called a
Vandal Sword' or simply a Spectre
) is
Ghost Swordsman
who possesses a very large sword. He is a counterpart to the female rapier-wielding
Nemesis
. He fades in and out of view, and swings his massive sword around. Only the sword can be injured.
Alastor is the ghost form of the Sword Lord in Castlevania: Symphony of the Night. After destroying the Sword Lord's armor, Alastor is revealed from within and must himself be destroyed. A massive variation of Alastor which does not possess a suit of armor, called Azaghal, also appears in this game.
In Aria of Sorrow and Dawn of Sorrow, the Alastor Soul allows you to control the Alastor as a Familiar, which is similar to the Sword Familiar found in Symphony of the Night.
In Greek mythology, Alastor is a spirit of retribution against those who committed evil deeds, while Nemesis punishes those who offend the gods.
Enemy Data
Edit
Enemy Data: Alastor
Image

Name

- Game
Description
Statistics
Items
Location
Sword Lord wields sword even when banished.
Strong: Hit
Level: 15
HP: 120
Exp: 100

Drop: Holy Sword, Muramasa

Clock Tower

'
Level: 24
HP: 96
Exp: 165

Common Drop: Noon Star
Rare Drop: Sapphire

Castle A: Clock Tower, Castle Treasury
Castle B: Clock Tower, Chapel of Dissonance, Marble Corridor

His vengeful spirit possesses a floating sword.
Strong: Nothing
Weak: Nothing
HP: 1200
Exp: 1500
Timestop: Unaffected

Drop: Nothing
Soul: Alastor Familiar

Chaotic Realm

A possessed sword driven to seek revenge by the souls of slain soldiers.
Strong: Dark
Weak: Holy
HP: 291
MP: 400
Exp: 564
Atk: 99
Timestop: Unaffected

Soul: Alastor Familiar (10%)

The Pinnacle, The Abyss

A sword monster. Does not realize its master is long dead, and continues to fight for him.
Weak: Thunder, Wind
Level: 15
HP: 310
Exp: 42

Common Drop: Knight's Vein
Rare Drop: Ramen
Steal: $100

Garibaldi Temple, Tower of Eternity

A sword monster with an invisible body. Its blade contains the former owner's anger, giving it life.
Weak: Thunder
Level: 15
HP: 314
Exp: 43

Common Drop: Knight's Vein
Rare Drop: High Potion
Steal: $200

Garibaldi Temple, Tower of Eternity

A sword monster with an invisible body. Its blade contains the former owner's anger, giving it life.
Weak: Thunder
Level: 47
HP: 926
Exp: 672

Common Drop: Knight's Vein
Rare Drop: High Potion
Steal: $200

Infinite Corridor

A sword possessed by the souls of slain warriors, driven by revenge.
Strong: Dark
Weak: Holy
HP: 512
Exp: 512
Skill Pt: 25

Drop: Damascus Sword

Nest of Evil