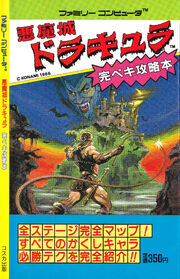 A Japanese guidebook for the original famicom version of the first Castlevania. It contains some artwork based on the designs found in the Japanese manual (some may be images that never made it into the manual). by Kosuka Publishing.
See also Akumajo Dracula Perfect Artwork
Related Products
Edit
External Links
Edit
Ad blocker interference detected!
Wikia is a free-to-use site that makes money from advertising. We have a modified experience for viewers using ad blockers

Wikia is not accessible if you've made further modifications. Remove the custom ad blocker rule(s) and the page will load as expected.