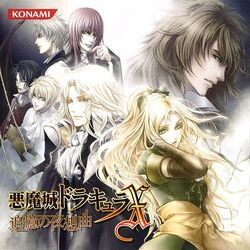 Akumajō Dracula X: Tsuioku no Yasōkyoku (悪魔城ドラキュラX:追憶の夜想曲) translation: Castlevania: Nocturne of Recollection (unofficial translation, sometimes translated as Nocturne of Reminiscence) is a Japanese-language-only internet radio drama taking place shortly after the events of Castlevania: Symphony of the Night.
It was originally a feature on the Akumajō Dracula: Radio Chronicle programme that was broadcast on Konami Station internet radio. It was released on CD on March of 2010.
Character gallery
Edit
For additional artwork, please visit Nocturne of Recollection Artwork.
Related products
Edit
External links
Edit
Ad blocker interference detected!
Wikia is a free-to-use site that makes money from advertising. We have a modified experience for viewers using ad blockers

Wikia is not accessible if you've made further modifications. Remove the custom ad blocker rule(s) and the page will load as expected.