Japanese name
悪魔城ドラキュラ ベスト 2 Akumajō Dorakyura Besuto Tsū
Release date(s)
Dec 05, 1991 (First edition)
Sep 23, 1998 (Reprint)
Catalog number(s)
KICA-7506~7 (First edition)
KICA-7902~3 (Reprint)
Price
3300 JPY (First edition)
2980 JPY (Reprint)
Number of tracks
Disc 1: 28
Disc 2: 35
Total length
Disc 1: 53:44
Disc 2: 44:55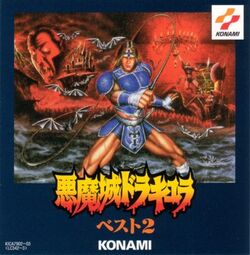 Akumajō Dracula Best 2 is a 2-disc compilation containing the original soundtracks from Super Castlevania IV, Castlevania Adventure and Castlevania II: Belmont's Revenge. The music was composed by Konami Kukeiha Club and the soundtrack released on December 05, 1991.
A reprint of this soundtrack was released on September 23, 1998 with Akumajō Dracula Famicom Best.
Track list
Edit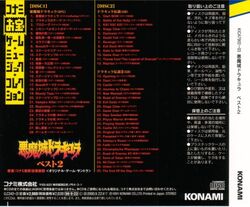 Games
Related Products
Edit
External Links
Edit
Ad blocker interference detected!
Wikia is a free-to-use site that makes money from advertising. We have a modified experience for viewers using ad blockers

Wikia is not accessible if you've made further modifications. Remove the custom ad blocker rule(s) and the page will load as expected.