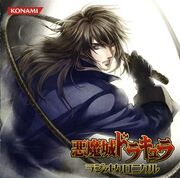 Akumajō Dracula: Radio Chronicle (悪魔城ドラキュラ ラジオクロニクル, Castlevania: Radio Chronicles?) is a Japanese language only internet radio program aired on Konami Station in 2008 that featured the voice actors from Akumajō Dracula X: Tsuioku no Yasōkyoku. Various Castlevania subjects were discussed, although other topics non- regarding to the series were also discussed as well.
The radio drama Akumajō Dracula X: Tsuioku no Yasōkyoku was aired as a feature of this program. A CD containing the contents of this program in MP3 format is now available in Japan as of March of 2010.
Related products
Edit
External links
Edit
Ad blocker interference detected!
Wikia is a free-to-use site that makes money from advertising. We have a modified experience for viewers using ad blockers

Wikia is not accessible if you've made further modifications. Remove the custom ad blocker rule(s) and the page will load as expected.