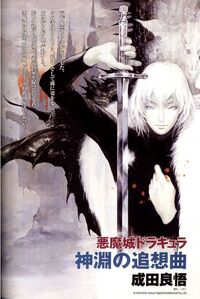 Akumajō Dorakyura: Kabuchi no Tsuisōkyoku (悪魔城ドラキュラ 神淵の追想曲, Akumajō Dorakyura: Kabuchi no Tsuisōkyoku? lit. "Demon Castle Dracula: Reminiscence of the Divine Abyss")[1] is a novel published by Dengeki Bunko in November 2008 taking place one year after the events of Castlevania: Dawn of Sorrow. It was written by Ryōgo Narita and supervised by Koji Igarashi.
This novel doesn't have the cut-in illustration. New official art doesn't exist.
Related products
Edit
External links
Edit
References
Edit
↑ "Divine Abyss" (

神淵

Kabuchi

?

) can also be pronounced as Kambuchi or Shin'en. The novel does not specify which pronunciation is intended.
↑ Dengekionline (Japanese language)成田:私も小説版でダナスティの子孫をヒロインにさせていただきました(笑)。その節はダナスティの子孫という私の考えた無茶なキャラクター設定を許してくださり、ありがとうございました。
Ad blocker interference detected!
Wikia is a free-to-use site that makes money from advertising. We have a modified experience for viewers using ad blockers

Wikia is not accessible if you've made further modifications. Remove the custom ad blocker rule(s) and the page will load as expected.