Akumajō Densetsu SOUND TRACKS (also Castlevania III: Dracula's Curse SOUND TRACKS) is the original soundtrack for the game Castlevania III: Dracula's Curse. It is a new recording, released on Oct 7, 2014. It is the first time tracks from Dracula's Curse are separated in the tracklist.
Tracklist
Edit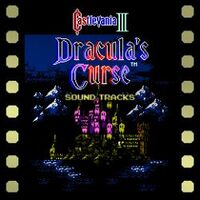 新たなる決意:Prelude (タイトルデモBGM)
Epitaph (パスワードBGM)
Prayer (スタートデモBGM)
Beginning (教会、町、墓場ステージ)
Boss Fight (各ボスBGM)
Block Clear (パターンクリア)
決死の対戦:Destiny (分岐BGM)
Clockwork (時計台ステージ)
Mad Forest (森ステージ)
Anxiety (幽霊船ステージ)
ラルフ危機!:Rising (塔ステージ)
Stream (水道橋ステージ)
Game Over (ゲーム・オーバー)
暗黒と緊迫:Dead Beat (沼地ステージ)
Nightmare (地下道ステージ)
Encounter (メンバー参入デモBGM)
地下からの脱出:Aquarius (水没都市ステージ)
Pressure (水没都市の脱出)
最後の戦い:Demon Seed (ドラキュラ城地下)
Dejavu-Vampire Killer- (ドラキュラ城本館)
Riddle (ドラキュラ城塔内)
Overture (最終ステージボス)
Big Battle (最々終ボスBGM)
BOSS3 (最々終ボス第二形体BGM)
All Clear (オールパターンクリア)
エンディング:Evergreen (エンディング・ストーリー)
Flash Back (エンディング・名場面集 〈ドラキュラ2〉)
Player Out (プレーヤアウト)
Ad blocker interference detected!
Wikia is a free-to-use site that makes money from advertising. We have a modified experience for viewers using ad blockers

Wikia is not accessible if you've made further modifications. Remove the custom ad blocker rule(s) and the page will load as expected.