Ad blocker interference detected!
Wikia is a free-to-use site that makes money from advertising. We have a modified experience for viewers using ad blockers

Wikia is not accessible if you've made further modifications. Remove the custom ad blocker rule(s) and the page will load as expected.
Japanese Name
悪魔城伝説 SOUND TRACKS
Release Date(s)
Oct 07, 2014
Price
1700, 3300 (Combined) JPY (without tax)
Number of Tracks
28, 56 (Combined)
Akumajō Densetsu SOUND TRACKS (also Castlevania III: Dracula's Curse SOUND TRACKS) is the original soundtrack for the game Castlevania III: Dracula's Curse. It is a new recording, released on Oct 7, 2014. It is the first time tracks from Dracula's Curse are separated in the tracklist.
Tracklist
Edit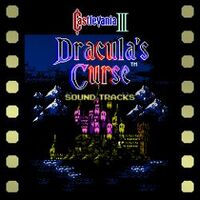 新たなる決意:Prelude (タイトルデモBGM)
Epitaph (パスワードBGM)
Prayer (スタートデモBGM)
Beginning (教会、町、墓場ステージ)
Boss Fight (各ボスBGM)
Block Clear (パターンクリア)
決死の対戦:Destiny (分岐BGM)
Clockwork (時計台ステージ)
Mad Forest (森ステージ)
Anxiety (幽霊船ステージ)
ラルフ危機!:Rising (塔ステージ)
Stream (水道橋ステージ)
Game Over (ゲーム・オーバー)
暗黒と緊迫:Dead Beat (沼地ステージ)
Nightmare (地下道ステージ)
Encounter (メンバー参入デモBGM)
地下からの脱出:Aquarius (水没都市ステージ)
Pressure (水没都市の脱出)
最後の戦い:Demon Seed (ドラキュラ城地下)
Dejavu-Vampire Killer- (ドラキュラ城本館)
Riddle (ドラキュラ城塔内)
Overture (最終ステージボス)
Big Battle (最々終ボスBGM)
BOSS3 (最々終ボス第二形体BGM)
All Clear (オールパターンクリア)
エンディング:Evergreen (エンディング・ストーリー)
Flash Back (エンディング・名場面集 〈ドラキュラ2〉)
Player Out (プレーヤアウト)