Stage 3 for Castlevania: The Adventure is the torture chamber and trap tower.
Enemy Data
Edit
Enemy Data: Stage 3
Image

Name

- Game
Description
Statistics
Items
Location
Enemies
Whenever you encounter these creeping Worms make sure to finish them off. Use Fire Balls and watch your step!(

*

)
HP: 2
Exp: 20
Atk: 1

3. Torture Chamber

Boss
Learning the attack pattern and safety zones in this chamber is the key. (

...

)(

*

)
3. Torture Chamber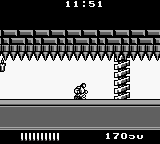 The coil at the end must be destroyed so you don't get crushed. If you can weaken it, wait until it's close to crushing you, then destroy it. While the spiked ceiling ascends, you'll have enough time to reach the candle on the left without a fully upgraded whip. The candle has an extra life.
External videos
Edit
External links
Edit
Ad blocker interference detected!
Wikia is a free-to-use site that makes money from advertising. We have a modified experience for viewers using ad blockers

Wikia is not accessible if you've made further modifications. Remove the custom ad blocker rule(s) and the page will load as expected.