Adramelech
Talk

0
4,072pages on
this wiki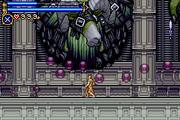 Adramelech is a gigantic goat sacrificed as the embodiment of tortured souls, and it's trapped within the bell tower's castle wall. Those many tortured souls protect its huge, vulnerable head by transforming into purple globs that crowd around each other, floating up and down, and they keep forming one after another. When you defeat it, its head falls off and reveals on its place a purple-like liquid coming out of its neck. When you re-enter the area again, its entire body is gone. No item can be found after defeating it, but there is a switch that destroys all impassable giant green coffins around the castle.
Adramelech itself will attack in three ways:
It will blast huge blue flames, about eight in a row, each in the exact direction where you're standing during their release.
It will drool and summon poison bubbles from the floor to fill the room.
It will conjure souls in the form of skull heads to swoopingly chase you from one side of the room to the other, if you don't duck under them first.
Enemy Data
Edit
Enemy Data: Adramelech
Image

Name

- Game
Description
Statistics
Items
Location
'
Strong: Dark
HP: 1800
Exp: 16000
Atk: 380
Def: 360

Chapel Tower