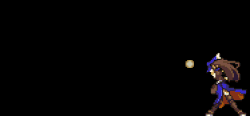 Acerbatus is a Glyph in the Castlevania series. It calls forth the power of spite.
Description
Edit
Acerbatus is a Thunder and Darkness glyph that can inflict Curse. It fires a large, brownish orb of energy.
It is one of Albus's signature glyphs and can be absorbed from him by Shanoa in Castlevania: Order of Ecclesia.
It is available to Shanoa in the DLC chapter Lord of Flies in Castlevania: Harmony of Despair.
Item Data
Edit
Animations
Edit
Ad blocker interference detected!
Wikia is a free-to-use site that makes money from advertising. We have a modified experience for viewers using ad blockers

Wikia is not accessible if you've made further modifications. Remove the custom ad blocker rule(s) and the page will load as expected.