Ad blocker interference detected!
Wikia is a free-to-use site that makes money from advertising. We have a modified experience for viewers using ad blockers

Wikia is not accessible if you've made further modifications. Remove the custom ad blocker rule(s) and the page will load as expected.
Abyss Stairway
Castlevania: Circle of the Moon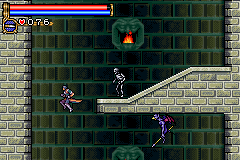 This stage focuses on climbing and platforming
The Abyss Stairway is a location in Castlevania: Circle of the Moon and acts as a connection hub to other areas of the castle. It is composed of tower sections, not unlike those found in Symphony of the Night's Outer Wall, such as each platform being part of the spiral staircase in the background.
General Information
Edit
Narrow pathways filled with monsters are also part of this location. Gremlins fly around the towers in groups, Skeletons lay in wait at platforms, and Bone Heads may be stuck to the ceiling. Axe Armors, along with Electric Skeletons, are encountered on platforms located near the top of the towers. Slimes, Clinking Men, Skeleton Soldiers and Will O' Wisps are found within the passages.
Item Data
Edit
Item Data: Abyss Stairway
Image

Name

- Game
Description
Type / Users
Attributes / Consume
Statistics / Sell
Found
Notes
Items Dropped
Armor Made From Leather
Body (Body Armor)
Nathan 
DEF +30

Drop: Axe Armor, Skeleton, Electric Skeleton, Skeleton Spear, Skeleton Soldier, Skeleton Knight, Brain Float

Clothes that were worn by a prisoner
Body (Clothes)
Nathan 
DEF +20, STR +5

Drop: Evil Hand, Gargoyle, Ghoul, Clinking Man, Zombie Thief

'
Recovery Item (Heart Potion)
Nathan 
Heart +25

Drop: Arachne, Gargoyle, Catoblepas, Ghoul, Dryad, Bone Tower

'
Recovery Item (Heart Potion)
Nathan 
Heart +10

Drop: Gorgon, Spearfish, Bat, Bone Tower, Bone Head, Man Eater, Mummy, Mimic Candle

Cotton armband.
Arm (Bracelet)
Nathan 
STR +5

Drop: Will O' Wisp, Ectoplasm, Gremlin, Spirit, Devil Tower, Bat, Medusa Head, Were-Panther

'
Recovery Item (Health Potion)
Nathan 
HP +20

Drop: Abiondarg, Wind Armor, Skeleton, Skeleton Bomber, Zombie, Demon Lord, Devil Tower, Hyena, Fox Hunter, Flame Demon, Myconid

'
Recovery Item (Mind Potion)
Nathan 
MP +30%

Drop: Witch, Will O' Wisp, Ectoplasm, Gremlin, Spirit, Specter, Nightmare, Brain Float, Mudman

Armor made from bronze
Body (Body Armor)
Nathan 
DEF +50

Drop: Skeleton Soldier, Skeleton Knight, Flame Armor

'
Recovery Item (Cure)
Nathan 
Drop: Killer Bee, King Moth, Slime, Poison Armor, Poison Worm

Background Music
Edit