Ad blocker interference detected!
Wikia is a free-to-use site that makes money from advertising. We have a modified experience for viewers using ad blockers

Wikia is not accessible if you've made further modifications. Remove the custom ad blocker rule(s) and the page will load as expected.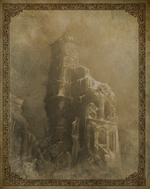 The Abbey Tower is the fifth stage of Lords of Shadow Chapter 5. It is here that Abbot Vincent Dorin resides. The level's unlockable trial requires that Gabriel finish the level after finding and destroying 100 breakable objects before the allotted time runs out.
Zobek's Journal
Edit
The tower at the Abbey of Wygol was once a place where men of God sought knowledge and protected the people with Christ's love. Now it is the refuge of a man driven insane by fear. Dorin has abandoned his people to death or worse. A powerful relic keeps the vampires at bay, and we must take it if we stand any chance against the Dark Lord's minions. I know of a secret way that will take me to the top of the tower by a different path. Gabriel will have to find his own way for now.
Enemy Data
Edit
Enemy Data: Abbey Tower
Image

Name

- Game
Description
Statistics
Items
Location
Despite most people believing otherwise, Ghouls are not undead creatures. (

...

)
Weak: Dagger, Fairy, Holy Water x2, Crystal x3
Size: Medium
Difficulty: Low
Exp: 50, 100 if defeated with Holy Cross power

Chapters 5, 6, 13

Small, winged imps, famous for causing havoc wherever they go. (

...

)
Strong: Fairy
Weak: Dagger x2, Light Fairy, Holy Water x2, Crystal x3
Size: Small
Difficulty: Low

Chapter 2, 5, 8

Item Data
Edit
Item Data: Abbey Tower
Image

Name

- Game
Description
Type / Users
Attributes / Consume
Statistics / Sell
Found
Notes
(Green magical gems that can be inserted into the empty slots of a Life Gem Medallion.)
Gabriel 
Recovers health.

Find: Chapters 1, 2, 3, 4, 5, 6, 7, 8, 9, 10, 11
First Obtained: Hunting Path

At first glance, these flasks appear to be empty. However, when opened, there will always be a few drops of blessed water at the bottom. These are the endless tears of the fourteen holy helpers. They can be used to sanctify water, which, in turn, serves as an excellent weapon against creatures of the night. The bottle explodes with holy flame upon impact, which are devastating to Vampires!
Gabriel 
First Obtained: Abbey Tower

Related locations
Edit