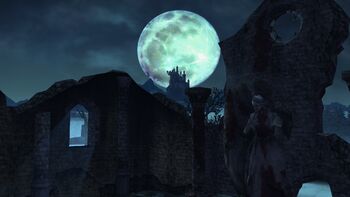 The Abbey Ruins is a stage outside of Dracula's Castle in Castlevania Judgment. In story mode, it is where the playable character first enters the Time Rift and encounters Aeon. Zombies may spawn, even when fighting against one of the main combatants.
The only destructibles on this stage are two barrels; otherwise, this is a straight-forward stage with no strategy or danger to it.
Ad blocker interference detected!
Wikia is a free-to-use site that makes money from advertising. We have a modified experience for viewers using ad blockers

Wikia is not accessible if you've made further modifications. Remove the custom ad blocker rule(s) and the page will load as expected.