Ad blocker interference detected!
Wikia is a free-to-use site that makes money from advertising. We have a modified experience for viewers using ad blockers

Wikia is not accessible if you've made further modifications. Remove the custom ad blocker rule(s) and the page will load as expected.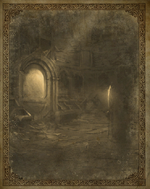 The Abbey Library is the fourth stage of Lords of Shadow Chapter 5. The level's unlockable trial requires that Gabriel finishes the level and beat the mirror and lights puzzle in less than two and a half minutes.

Zobek's Journal
Edit
The traps laid by the abbot have proved tricky, and yet we have managed to break into the inner cloisters and the library is close at hand, if memory serves. My friend looks weary and troubled. The weight of the world on his shoulders. I can see he is holding a terrible secret deep within. He is trying to bury it, and in its place the anger is taking over. We must not delay. We must find Dorin and take what we need before we are dragged down with the guilt. The need of the many outweighs those of the few now. We can shed no tears for those lost, we must be strong and we must destroy the Lords of Shadow at any cost.
Enemy Data
Edit
Enemy Data: Abbey Library
Image

Name

- Game
Description
Statistics
Items
Location
These empty suits of armor have been given temporary 'life' due to possession by a poltergeist. (

...

)
Strong: Dagger, Fairy x3
Weak: Explosive Dagger, Light Fairy, Holy Water, Crystal x3
Size: Big
Difficulty: Medium

Drop: Often a complete Dark Crystal

Chapters 5, 6, 7

Small, winged imps, famous for causing havoc wherever they go. (

...

)
Strong: Fairy
Weak: Dagger x2, Light Fairy, Holy Water x2, Crystal x3
Size: Small
Difficulty: Low

Chapter 2, 5, 8

Item Data
Edit
Item Data: Abbey Library
Image

Name

- Game
Description
Type / Users
Attributes / Consume
Statistics / Sell
Found
Notes
(Blue magical gems that can be inserted into the empty slots of a Light Gem Medallion.)
Gabriel 
Find: Chapters 2, 3, 4, 5, 6, 7, 8, 9, 10, 11

(Red magical gems that can be inserted into the empty slots of a Shadow Gem Medallion.)
Gabriel 
Find: Chapters 2, 3, 4, 5, 6, 7, 8, 9, 10, 11

Related Locations
Edit